Our office offers same-day tooth restorations with our advanced E4D Dentist system.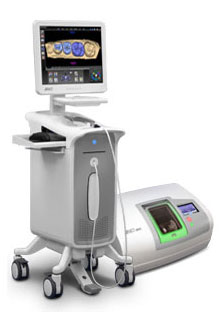 The E4D Dentist system is a comprehensive chairside Computer-Aided Design (CAD) and Computer-Aided Manufacturing (CAM) system that produces inlays, onlays, full crowns, and veneers. Your newly restored tooth will be metal-free, as it is made from a high-grade ceramic material that is compatible with the natural tissue found in your mouth.
Using a handheld laser scanner, your doctor can capture true 3D intraoral images without the use of messy powder or putty trays. Your doctor, with assistance from E4D DentaLogic software, will then create a virtual model and plan for a custom-designed restoration. With the incorporation of an E4D mill, your restoration can be created and placed the same day, allowing you to get back to your life and all the things that make you smile.
Speed, Convenience, and Quality
There are many advantages of E4D over traditional restoration technology:
E4D restorations are made in one visit, saving you the time and inconvenience of multiple visits.
Since your restoration can be completed in one visit, there is no need for a temporary restoration, which eliminates significant potential discomfort.
The strong, tooth-colored ceramic materials restore your teeth to their natural strength, beauty, and function and closely match the composition of natural tooth structure.
Milled ceramic is stronger than the traditional method of layering and pressing, so your smile will stay beautiful for years!